St. Andrew Lutheran Church is a community of faith located in the city of West Chicago, in the far western suburbs of Chicago. We are a very eclectic congregation. For example, we have senior members in their 90s and many young children in their first years of life; some of our members have been with our church for many decades, while others are new. Our members come from all walks of life and various countries of origin. We have worship services in both English (Traditional and Contemporary) and Spanish.
At St. Andrew we have gathered together to encounter God's Love, to be nurtured in our relationship with Jesus Christ, and we are sent to share and care in Jesus' name.
To find out more, email our office at: standrewluth@sbcglobal.net
St. Andrew Office phone number is 630-231-3787.
____________________________________
Welcome to St. Andrew / Bienvenidos a San Andrés
THERE IS A PLACE FOR YOU…
…to worship, grow and serve at St. Andrew no matter what your background is or where you are on your spiritual journey. Our doors are wide open to people from all walks of life.
Together we strive to be the kind of church described in the Bible, praising God through meaningful worship, practical teaching, and uplifting music. Growing deeper in the mysteries of faith, building genuine friendships, and loving and serving people in our area and the world is what we are all about.
So whether you are investigating Christianity for the first time, or are a committed Christian who wants to grow deep spiritual roots, there is a place for you at St. Andrew.
You will find that this is a place where Jesus' love and grace is experienced and shared! Come join us!
– Rev. Josh Ebener, pastor
Who Are We?
St. Andrew Lutheran Church is a welcoming, multicultural/bilingual Christian community in the suburb of West Chicago in Western DuPage County. We are a part of the Evangelical Lutheran Church in America (www.elca.org).
Our Mission
We have GATHERED together to encounter God's Love, to be NURTURED in our relationship with Jesus Christ and we are SENT to share and care in Jesus' name!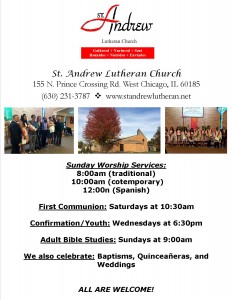 ________________________________________________
HAY UN LUGAR PARA USTED…
…para adorar, crecer, y servir en San Andrés no importa de donde viene ni donde este en su peregrinación espiritual. Nuestras puertas están completamente abiertas para todas las personas.
Juntos nos esforzamos por ser el tipo de iglesia que cuenta la Biblia, alabando a Dios a través de la adoración, la enseñanza, y la música religiosa. Nuestro compromiso es de profundizar en los misterios de la fe, construir amistades genuinas, y servir a la comunidad en nuestra área y en el mundo.
Si usted este interesado en conocer de la fe Cristiana por primera vez, o que ya es Cristiano comprometido que quiere crecer espiritualmente, hay un lugar para usted en la San Andrés.
Usted se dará cuenta que este es un lugar en donde el amor y la gracia de Jesús son experimentados y compartidos.
– Rvdo. Joshua Ebener, pastor
¿Quienes Somos?
Iglesia Luterana San Andrés es una comunidad Cristiana acogedora, multicultural, e bilingüe en la ciudad de West Chicago ubicada en el oeste del Condado de DuPage. Somos parte de la Iglesia Evangélica Luterana en América (www.elca.org).
Nuestra Mision
"Nos hemos REUNIDO para encontrar el amor de Dios, para ser NUTRIDOS en nuestra relación con Jesucristo, y para ser ENVIADOS a compartir y servir en el nombre de Jesús."